ネイティブ日記
英語の日記をつければ英会話は上達する!初心者でも読める日記シリーズ (第101回7月15日〜7月21日)
2019/7/14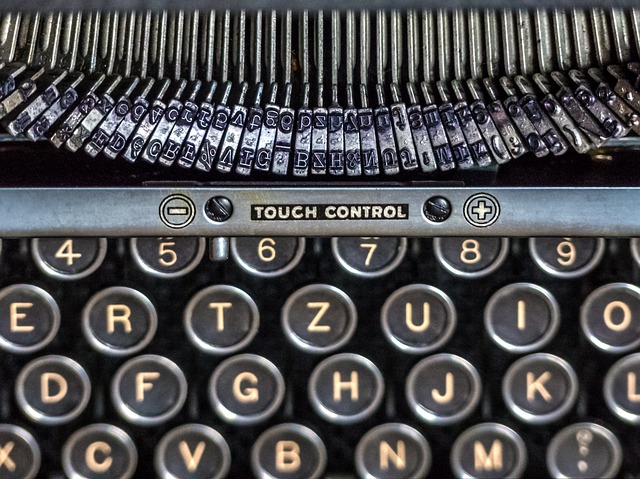 Monday, July 14th.  "Taking care of plants"
Do you know the phrase "have a green thumb"?  It means you're good at taking care of plants.  I don't think I have a green thumb but I have successfully taken care of some plants that students have given me in the past.  One is a rubber tree that I got 10 years ago from a student.  It's now a tree.  
Right now, there's another plant I would like to take care of.  At the beginning of the semester, a student gave me orchids called Phalaenopsis Aphrodite.  You see it a lot at openings of stores and restaurants.  Apparently, they are Orchids that are found in Taiwan and the Philippines. 
A student brought me instruction on how to take care of this unique looking plant.  I hope I can take care of it well.  I look forward to seeing it bloom again.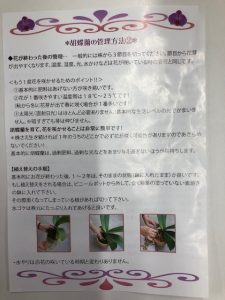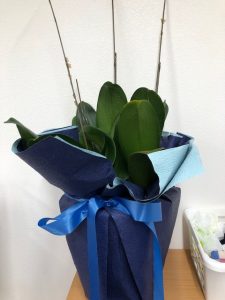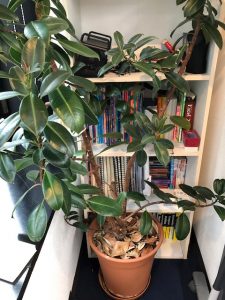 Wednesday, July 16th.  "Samgyeopsal"
The other day, a student recommended a good restaurant.  It's a Korean style restaurant in Sakae called Vegetejiya.  They serve Samgyeopsal.  Samgyeopsal means grilled pork belly.  It's a Korean style of cuisine.  What's special about this restaurant is you can eat as much vegetable as you want.  You wrap the Samgyeopsal with different kinds of vegetable.  The food was better than I thought.  I really enjoyed it.  
There was one bad aspect though.  I smelled like garlic after I ate it.  I was afraid a student might say, "What the hell did you eat last night?"  I love Korean food and Chinese food but it makes you smell like garlic after you eat it so I usually eat it on Saturday when I don't have to teach the next day.  Next time I go there, I'll make sure to go on a Saturday and I'll eat as much as I want!!
eat as much vegetable as you want – 好きなだけ野菜が食べれる
Website of Vegetejiya. → https://vegetejiya.owst.jp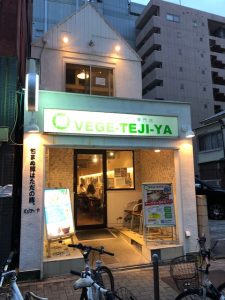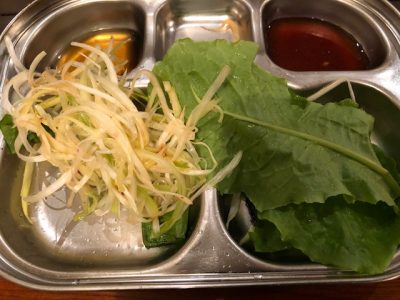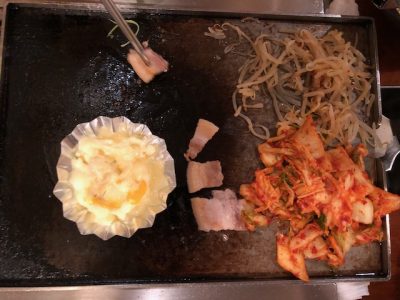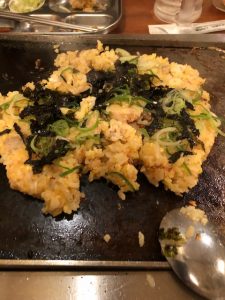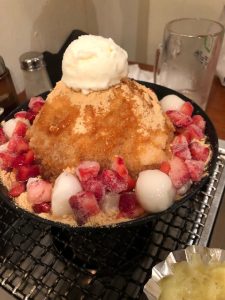 Friday, July 19th   "Oatmeal is not good for me"
I had been eating oatmeal for the last two weeks but for some reason, it had given me a stomachache.  I guess I can't digest oatmeal very well.  As you know, I'm a health nut so I had to come up with another way to stay healthy.  
After thinking about it long and hard, I decided to eat rice guru (お粥).  Today, I made it with spinach, dashi, umeboshi, mixed grain and flaxseed oil (亜麻仁オイル). Believe it or not, it was really delicious!! 
One of my students gave me a really good coffee.  It's organic and delicious.  She told me the price is really cheap but it's high quality.  I'm thinking of buying some.  ☕️ 
digest – 消化
As you know – ご存知のように
health nut – 健康オタク
come up with – 思いつく
After thinking about it long and hard – 真剣に考えた末
Believe it or not – 信じれないと思うけど、