ネイティブ日記
英語の日記をつければ英会話は上達する!初心者でも読める日記シリーズ (第77回:1月28日~2月4日)
2019/1/27
Monday, January 28 "My kind of restaurant"
I'm not really into fancy restaurants.  That's why I hardly go to expensive French or Italian restaurants.  I'm more into going to Izakaya with good food.  I guess you can say, I'm a typical Japanese Ojisan.  There's one thing that's different about me from other Ojisans.  That is, I don't drink. 
I go to Izakaya just for the food.  My favorite is Yakitori.  I've been searching for a good Yakitori restaurant nearby and I finally found one.  It's called Shige izumi (しげ泉).  I went there last week with my friends and the food was excellent!  Also, the price is pretty reasonable. 
While I was walking around Izumi in Higashi ward, I realized this whole area is filled with nice restaurants.  It made me want to check out the many kinds of restaurants there. 
filled with – 〜でいっぱいである
It made me want to – 〜をしたい気持ちになる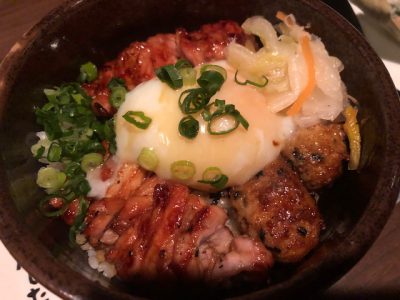 Wednesday, January 30  "Putting on weight"
These days, I've not gotten on the scale.  For the last 3 years I've gotten on the scale and if I was putting on weight I watched what I ate.  Since December of last year, I stopped doing that. 
The reason is I found out I had high blood pressure.  I don't know why I got high blood pressure but I assumed because I was under stress.  I decided to care less about my weight because that would lower my stress level.   Students often tell me that I'm too single-minded.  That's my strength and weakness.  From December I've been focused on lowering my blood pressure and I cared less about my weight. As I mentioned in my blog, I achieved lowering my blood pressure.  But the sad thing is I've gotten fat.  You can never get what you want in this world. 
I realized I got fat by looking at this picture.  The buttons are about to fly off my shirt!!  When you are taking lessons, you might be hit by a flying button so be careful.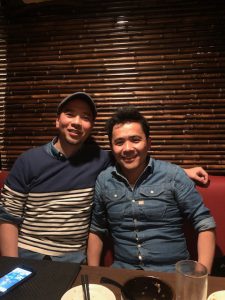 Sunday, Feb 3rd.  "The new teacher"
I've been training a new teacher that will join us from April.  His name is David Forrest.  He's originally from Brisbane in Australia.  He's 2 years younger than me.  He's really tall and he has a nice smile.  What I look for in a teacher is first and foremost, attitude.  If a teacher is not motivated to teach, students learn very little.  Secondly, I see how much Japanese they can speak.  The ones who can speak Japanese can help lower level students, but also they understand the difficulty of learning a new language.  
I feel teaching techniques can be taught but those two things are what teachers need to bring when they teach at my school.  I'll introduce you to him when he officially joins in April.  (He'll be here once a week for training until the end of March so you might have a chance to meet him.)
first and foremost    何よりも
attitude  態度、姿勢